The Right PTFE-Coated Materials Aid in Production of Abrasive Products
Grinding wheels are comprised of very coarse grit particles that are bonded together and in a circular shape. When attached to motorized tools such as bench-grinders and drills, they are spun at varying speeds to sharpen, polish, grind, or create smooth the edges and surfaces on metal and other hard materials. There are a number of different grinding wheels, from straight wheels, cylinder wheels, to saucer wheels, all with specific uses and functions in mind during the manufacturing process.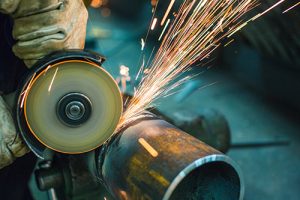 The process of manufacturing grinding wheels begins with the formation of a "log" from a mixture of abrasive grits and resin. Each log or tube is actually comprised of several discs being formed at the same time, but separated with pre-cut PTFE-coated fiberglass fabric separator sheets. After the log is cured in a high-temperature oven, the individual grinding wheels can be separated from each other because of the PTFE fabric separator sheets in between. The clean release properties of the PTFE coating and the strength of the fiberglass substrate allow for clean, reliable separation. The diameters of the die cut separator sheets vary depending on the size of the end product.
Key Considerations for Non-Stick Separator Sheets
Operating Temperature – PTFE-coated fiberglass fabrics are ideal for use in curing ovens where prolonged operating temperatures do not exceed 500° F/260° C.
Desired Surface Texture – material selection depends on desired release characteristics, and if the end product requires an embossed pattern or surface texture, which can be created by the texture of the separator fabric.
Diameter of End Product – separator sheets are die cut to the diameter as the finished end product. In some cases, the separators may need to be slightly wider for easier separation.
Recommended Materials
For the PTFE-coated fiberglass fabric separator sheets used in the manufacture of abrasive grinding wheels, we recommend the following: PC-14 or PC-20 PTFE-coated fiberglass fabric die cut pieces. Other PTFE-coated fiberglass fabrics have been successful, too. Contact us today to discuss your application and any questions you may have.